Resident Stories
featured resident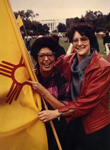 Maria
Resident since 2007
Triangle Square resident Maria Dolores Diaz was heavily active in the late 1960's involved in bringing young adolescents and Chicanos into higher education. She was the Co-Coordinator of the Educational Opportunity Program and worked at the Chicano Welfare Rights Organization with Alicia Escalante. She was instrumental in mobilizing and increasing awareness around issues related to women of color particularly lesbians of color, during the 1960's and 1970's. She was the first to coordinate acupuncturists medical brigades to Honduras after Hurricane Mitch. She is pictured here with her activist colleagues. Maria currently holds a PhD in Public Administration from the University of Southern California and an Acupuncture License from SMRA.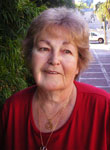 Alice
Resident since 2007
Alice is a native of the Bronx (1935) and worked as a school teacher until she moved to Los Angeles and became a Social Worker in 1964. She and her partner Sylvia were together for 45 years. Sylvia passed away in March of 2009, which left Alice and her two cats to survive on a limited Social Security income of just over $1,000 a month. She arrived to Triangle Square after seeking out all the resources she could think of, pleading for help with finding a place to live…"I was desperate….Triangle Square gave me a place to live, and a place to grieve and a place to find me…if I had been thrown out into the world, I don't know what I would have done…this is a sheltering and nurturing place where people care about my feelings and where people understand, without GLEH and Triangle Square, I don't know that I would be alive today".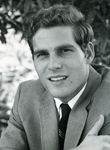 Dale
Resident since 2007
Triangle Square resident Dale Reynolds, is a native Southern Californian and spent his formative years in the United States Navy and at United States International University, both in San Diego. He spent the rest of his life acting on television and stage and currently performs a one-man Thomas Jefferson show. He co-founded AGLA - the Alliance for Gay and Lesbian Artists in the Entertainment Industry. His contribution to the Industry paved the way for future GLBT artists to be themselves in private and their public career. He is currently an acting coach and tours in his role Thomas Jefferson.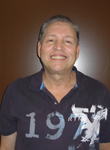 Enrique
Resident since 2007
Triangle Square resident Enrique Romero earned his citizenship to America after bartering his home to the Cuban Military. Once an American citizen of the United States he devoted himself to human service. In conjunction with the Welfare Department, he participated in the first survey of vulnerable children in downtown skid row. After becoming a Children's Service Worker he saved the life of a special needs child and was nationally recognized. Later in life, Enrique served as an HIV & AIDS counselor for the GLBT community and eventually retired as an ADAP coordinator. Enrique is the Co-Founder of the first gay Latin magazine and ironically was an actor at the Ivar Theater across the street from Triangle Square before Triangle Square was even built.
Hecmar
Resident since 2007
Hecmar is a native of Cuba, born in 1933 and worked in the world of film, television and theater as an actor for many years in Hollywood. He arrived to Triangle Square after he no longer was able to afford living in his condo. He was referred to Triangle Square when he was desperately in need of a place to live. When he arrived to GLEH, he did not have Section 8 and it was the staff here who helped him to enroll and get a Section 8 voucher which in turn helped him to supplement his rent. "I am 100% happy here at Triangle Square…I have had the support and the help that I need to live comfortably and without worries about issues that come up with regards to my healthcare. Living on social security, I can still enjoy a wonderful place to live."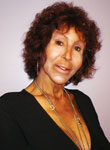 Nina
Resident since 2007
Miss Nina was born in a small in town in Texas from a military family in 1946 where she lived until she was 17. She moved out to California and lived in the Bay area and in San Francisco during the colorful era of the 1960's. She moved to Los Angeles in 1979 and got her cosmetology license, and also worked as a chef for many years. She served as a caregiver for her mother for many years until she could no longer care for her because of her mother's Alzheimer's. Shortly after her mother passed away, she found herself in a difficult financial situation and became homeless. She has braved the challenges of being Transgender and living with HIV for over 26 years and was without a place to live for over three years. She was anxious for an opportunity to move into Triangle Square and patiently waited until she was eligible to move in. She knew that once she moved in, she would have an opportunity to deal with the challenges and stress of her health issues. "When I finally moved into Triangle Square, my health was improved, I have de-stressed my life and I love it here…I am home…I don't have to worry about anything anymore…I AM HOME!"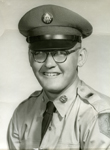 Wayne (Ms. Rosie)
Resident since 2007
Triangle Square resident Mr. Wayne Blohm served in the United State Army from 1959-1964, lastly serving in the Second Armored Calvary driving a 52-ton tank! She came out as transgender in 1967 and began her involvement with the Imperial Court of Los Angeles in 1970. She held titles as Princess, Queen Mother for Life and as XXII Empress of the Imperial Court of Los Angeles from 1992-1993. "Ms. Rosie" became a resident of Triangle Square in December of 2007 where she currently resides with her partner of 34 years.