For me, the yellow brick road ends at Triangle Square... LUCKY ME!
Rudolpho

Affordable Housing Developer
GLEH is the premier developer of affordable housing for low-income seniors and is particularly committed to meeting the growing needs of the LGBT and HIV/AIDS communities. The success of our first development Triangle Square - Hollywood has placed GLEH on the map. Built with the commitment of socially conscious housing developer  McCormack, Baron and Salazar, this landmark building is the result of a partnership that is highly respected and seen as a model for future collaborations to meet the needs of the aging and highly vulnerable senior community.
Triangle Square - Hollywood is the nation's first affordable low-income housing development with a focus on LGBT elders 62 and over. It serves as the flagship for GLEH's future developments, as well as a model for the standard of care that can be provided nationally.
Vision:
We envision building low-income affordable housing for a community in need, where everyone has a right to a safe and decent place to live.
Values:
Housing developments that support community and diversity
Service –enriched environments for residents and the surrounding community
Create environments of safety and security for Elders
Allow our elders to age in place, retain housing and promote health and wellness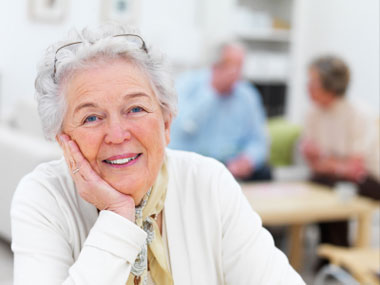 Housing issues seriously affect every generation of our community. Our elders, who are not always able to advocate for themselves and make their own decisions about housing, face a particular challenge in finding affordable housing options that provide them with a safe, secure and dignified space in which to live, have access to and seek out support services that are particularly tailored to their needs.
Goals:
Increase affordable senior housing production in Los Angeles, surrounding cities, and statewide
Promote public awareness of LGBT elder housing needs
Promote public awareness of low-income elders' needs, health issues and need for services
Encourage public support for the need of affordable housing and the plight of the LGBT elders in our community
Create and expand the GLEH model to spur new housing developments
The production of affordable housing in Southern California also faces a serious shortfall. Since 1990 new housing units, both ownership housing and rental housing, have failed to keep pace with demand. This shortfall continues in the face of an ever-increasing population. The general population that makes up the five counties in Southern California is projected to grow by more than six million people between 2000 and 2020. According to a recent study, the largest contributing factor to our growing population is not immigration but natural increase, that is, more births than deaths.
This situation makes it clear that the demand for affordable housing will continue to be strong for some time to come and the specific demand for LGBT and HIV/AIDS friendly senior housing will increase as the proportion of our elder population and society grow. GLEH is committed to increasing the availability of affordable housing for these highly vulnerable and under-served communities as it continues to be a premier developer of affordable housing for low-income seniors.
Are you a low-income LGBT older adult in need of affordable housing or social services? If so, complete the Housing and Services form to let us know you are interested.