For further information, please contact:
Angela Leonard, Director of Operations
E. This e-mail address is being protected from spambots. You need JavaScript enabled to view it
GLEH and Christopher Street West/L.A. Pride Celebrate 40 Years of Pride in L.A. Cheer LA and LA Frontrunners Raise Over $5,000 in Donations for GLEH
Sunday, July 11, 2010

June 2010 marked the 40th Anniversary of the CSW/L.A. Pride festival celebration and parade. As a pre-pride week kickoff, GLEH and CSW/LA Pride paid tribute to our GLEH residents on June 4th in the Schutrum-Piteo Courtyard of Triangle Square. A festive afternoon celebration of cocktails, food, cake and recognition to our LGBT elders who paved the way and made it possible for us to celebrate 40 years of pride in LA. Many GLEH residents were pioneers of the LGBT Civil Rights and HIV/AIDS movements on the West Coast.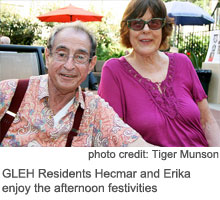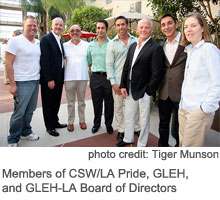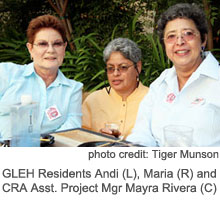 Attendees included members of the CSW/LA Pride, GLEH/GLEH-LA Board of Directors, West Hollywood Lesbian and Gay Advisory Board, West Hollywood Senior Advisory Council, Metropolitan Community Church, Community Redevelopment Agency/LA, [email protected], West Hollywood Councilwoman Lindsey Horvath among many others. GLEH would like to thank CSW/L.A. Pride for it's ongoing community partnership and for providing free festival passes to our low-income residents through its Community Outreach Ticket Initiative. Congratulations to CSW/LA Pride for an extremely successful 40th Anniversary Pride Celebration!
---

CHEER LA also partnered with GLEH during Pride and generously designated GLEH as their annual LA Pride Parade Charity Organization, promoting our agency and collecting along the parade route.

Thank you to Diana, Bob and all the members of Cheer LA for your efforts! GLEH sincerely appreciates your generosity and support!

---

LA Frontrunners also designated GLEH as one of the beneficiary agencies for this year's Pride Run, which takes place at 7am before the parade. LA Frontrunners as a group collected cash donations to benefit GLEH! This is the 29th Pride Run for LA Frontrunners and the 4th year that they have generously designated GLEH as one of their beneficiary agencies for the Pride Run! Thank you to all the community organizations who have been so generous and incredibly supportive of the important work and affordable housing provided by GLEH!