For further information, please contact:
Rafael Cosio, Director of Development
1602 North Ivar Avenue
Hollywood, CA 90028
T. (323) 957-7200
E. This e-mail address is being protected from spambots. You need JavaScript enabled to view it
GLEH receives Rainbow Key Award from West Hollywood Gay & Lesbian Advisory Council | GLEH participates in West Hollywood's first symposium on creating aging friendly communities.
Tuesday, July 13, 2010
Gay & Lesbian Elder Housing was among the 10 community leaders honored by the City of West Hollywood Lesbian and Gay Advisory Board with the 2010 Rainbow Key Award on June 20 at The London West Hollywood.
The City of West Hollywood also hosted "Pathways to Positive Aging: Creating Communities for a Lifetime," a special half-day symposium on creating aging-friendly communities.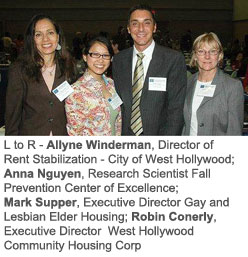 The symposium focused on national trends and models being used by cities and communities that enable residents to continue living in their current surroundings, as they encounter new needs and challenges of aging.
Mark Supper, Executive Director of GLEH was a guest speaker and a panelist at the symposium lead by West Hollywood City Councilmember Lindsey Horvath and produced by Barbara Meltzer. Mark stated "it is great to see a City like West Hollywood continue to take on the issues of aging and bringing to light the complexities of aging and the importance of creating community to care for our elders, GLEH was proud to be part of this amazing conference".